EN Tradycje rodzinne
My father's parents were Paul Wollenberg, jewelery and diamond merchant, even to the court of Queen Victoria of England, and Maria Wollenberg from Styczyński family – both very wealthy. Grandfather's office was in the Nowy Świat, lived in Karowa street, have an apartment at the Old Town in Warsaw.
My father Piotr Wollenberg was born in Warsaw in 1910. At the age of two he became an orphan (lost his mother during his birth; his father died in 1912). His older sister Jadwiga (born 1895) took care of him. He also had an older brother Sylvester (born 1897). Sylvester graduated from officer school in Warsaw and Siedlce. As an officer of the Polish Legions he fought in the war against Bolsheviks. He died on August 4, 1920 during the defense of Polish village Wolszawica (he is buried in Piszczac). Aunt Jadwiga was also a member of the Polish Legions, as a nurse and liason. In the World War II she was a member of the underground Peasant Battalions (BCh) in the rank of a captain. She was awarded during the war i.a. the Virtuti Militari Cross and the Cross of Combat.
My father Piotr graduated from the School of Decorative Arts in Warsaw (on the Mysliwiecka street). Since 1935 he attended the Academy of Fine Arts in Warsaw. He studied in the atelier of Prof. Tadeusz Pruszkowski. Professors then were also such distinguished artists as L. Wyczolkowski, F. Kowarski, K. Tichy, W. Skoczylas... While studying Piotr has exhibited his paintings in the ZACHĘTA Gallery - it was a great honor for a young student. He received a scholarship from the Marshal Rydz-Śmigły. Later he remembered those times: "For the lunches I visited Princess Czetwertyńska; Countess Maria Jehane-Wielopolska left me his house at Brzozowa street, when left with Rydz-Śmigły and the government to Romania. When I returned from the camp in Wołyń (Volhyn), I stayed in this residence. They were good friends of my father. "(From the press interview in 2000).
My mother Wanda Dziubek was born in 1913 in Skarżysko-Kamienna. Her parents moved to Kostopol (Kostopil) near Równe (Rivne). Wanda finished high school in Warsaw, and continued her education in the School of Crafts in Krakow with specialization in the embroidery. The school put emphasis on the teaching of didactics, teaching methodology and pedagogy (after the war regarded as pedagogic university), thus almost all her life mother worked as a teacher. Her first post she took in Warsaw.
In Warsaw, she met Piotr Wollenberg, the only love of her life. My mother liked to remember her fiancé times: joint art plein airs in Kazimierz, carnival balls in the Academy. She liked to recall the original dress, which was designed of fishing net by Piotr. She spoke among other things, about imaginative decorations in ballrooms made by students. In 1937, my mother designed and embroidered a series of flags and pennons. They were exhibited at the International Exhibition EXPO in Paris.
My parents were married in 1937, in the All Saints church in Warsaw. In 1938, Bozena, my oldest sister was born in Warsaw.
My parents and Bozena spent summer with family in Kostopol in 1939. There they watched an outbreak of war. Father was immediately mobilized and transferred to the defense of Warsaw. Mother stayed in Volhyn in the village Lipniki, where she ran a Polish elementary school. Father after the capitulation came to Lipniki. It was a time of hunger and poverty. In 1940, my mother gave birth to Teresa, second daughter. Parents have survived this difficult period largely due to support of the respectable Hermaszewski family. At the age of four years, surprisingly and inexplicably died Bozena. Parents fled Lipniki when attacks of Ukrainians on Polish population started. They came to Modryn by Bug river, where aunt Jadwiga Wollenberg-Teodorowicz had a small estate. From there, they moved to Warsaw. Their apartment was burnt including all the pre-war memorabilia. Mother organized a care of children from attacked by Germans Zamosc area. An orphanage for these children (approximately 180 kids) was organized in the village Parysów near Garwolin. She worked together with her sister Maria Atamańska. The children were in a deplorable state. Food for them was delivered by partisans from captured German transports heading to the eastern front. Over time, the children were picked up by the surviving members of their families or distant relatives. In 1944, the German-Soviet front passed through Parysów. The orphanage, though built of bricks, burned out. From the ruins of the building protruded a large metal printing machine. Then it turned out that my father ran there an underground printing press, where he printed and illustrated the weekly "Apel" published by the Warsaw District of Home Army (AK). He was a member of Polish underground under the name Swistak (Whistler). The whole group was caught. He was sentenced for nine years in prison. After 2.5 years in Rawicz prison he was released due to amnesty – actually my mother and aunt Maria bribed functionaries and bought his freedom.
I was born in Pulawy in 1945, while my father was sitting in prison. In Pulawy we owned a large house inherited from uncle (grandmother's brother – Jan Styczyński). Initially, we lived with my mother aunt Maria and her son Wlodzimierz Atamański. My father, after his release from prison, had difficulty in finding a job. First, he taught drawing in a tailor school, where my mother taught costume design, then he worked as a photographer at the Agricultural Institute in Pulawy. From this period we made beautiful friendships with prof. M. Strzemski, the prof. Lewickis, Andrzej and Maria Rogoziński... Those days father painted a lot, mainly landscapes of the Vistula river, Kazimierz and nearby areas... In Pulawy we were frequently visited by his colleagues from the Academy and the house was always full of guests. Therefore authorities lodged a policeman with family in our house in order to have better control of my parents activities.
Later on my father began to renovate the surrounding churches, including the reconstructing conservation of frescoes in Pulawy church (designed by Peter Aigner). In 1954 he was a member of team (together with Helena and Leon Michalski, Helena and Lech Grześkiewicz, and Stanislaw Brodziak) which conducted reconstruction projects for the Old Town in Lublin and the Old Town in Warsaw.
In summer 1954, my sister Teresa (14 years old) was killed in a car accident. It was yet another terrible blow to my parents.
In 1956 the father conducted the artistic renovation of interiors in Sanatorium in Polczyn Zdroj. Later, my father became a member of a Warsaw group of artists called Team 12. They implemented projects of industrial and decorative arts. For example he made a polychrome decoration of representative interiors at the Main Railway Station in Warsaw (scenes related to railways in the nineteenth century).
However, the father trips to Warsaw marked the beginning of my parents divorce. I and my mother stayed in Pulawy. Embroidery, which she has been liking so much, was already not so popular, so she spent her life teaching, mostly of drawing. She also worked as a teacher in a detention center for young people socially maladjusted in Pulawy. She was very liked by his pupils, to whom she devoted a lot of love and attention. Many of them corresponded with her after later in life. She was great, though modest local social worker.
My mother died after a serious illness in 1982 in Warsaw and was buried there. In memory of all, especially her grandchildren, she remained as a very warm and sensitive to the needs of others person.
In the late 50's father settled in Warsaw and Krakow, and then for more than 40 years in Kielce. In Kielce, he began working in the theater as a stage designer. He also worked for many years in the Kielce newspaper, where he contributed for the region by conducting the action "For the rescue of monuments". He traveled throughout the Kielce region, drew decaying historic buildings, wrote articles and by publicizing these issues saved many valuable objects from the devastation and ruin. In addition, father had saved for artists a Joseph Brandt's residence in Orońsko and helped to establish the Museum of Brandt. Over time, a Centre of Polish Sculpture was created in Orońsko.
My father died in 2005, aged 95 years, and was buried in Kielce. He received a title of 'Meritorious for Kielce land'. The funeral was with patriotic honors and the delegation of the World Association of Home Army. My father left a few paintings, some of them are in my possession, and a lot of drawings. His painting "Saved Life" took part in a number of presentations of Polish art all over the world.

Maria Wollenberg-Kluza is married. Her husband Ludwik Kluza is a mechanical engineer and holds MSc degree from Warsaw University of Technology.
Maria i Ludwik have two children: Stanisław (born 1972) i Krzysztofa (born 1974). Both sons are economists. They finished Warsaw School of Economics in Warsaw (SGH), where they also obtained Ph.D. degrees and work until now.
Stanisław - a Polish Science Foundation Fellow and Fulbright Scholar at the University of Washington in St. Louis, USA. Laureate of the Prime Minister award for the best doctoral thesis.
Krzysztof - a Polish Science Foundation Fellow and Fulbright Scholar at Columbia University in New York, USA.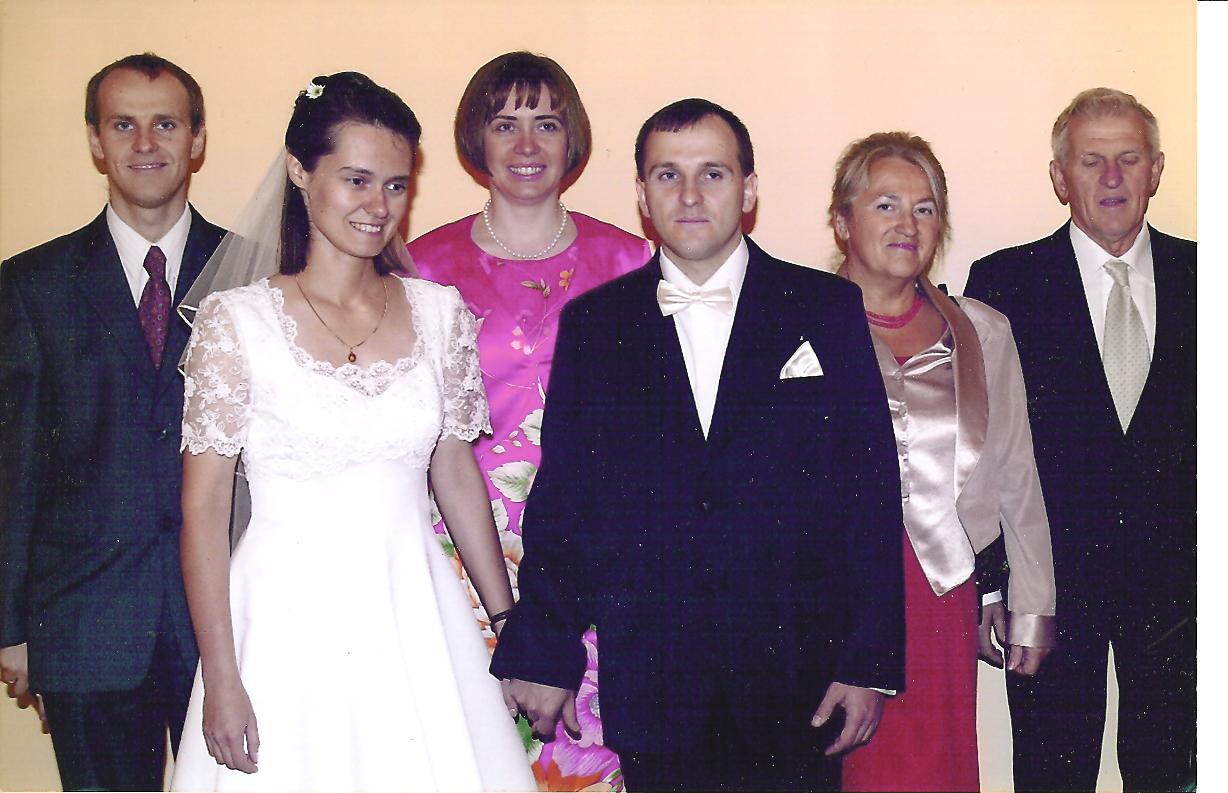 Maria and Ludwik have three grandchildren: Katarzyna (born 2007), Piotr (b. 2009) and Wojciech (b. 2011).